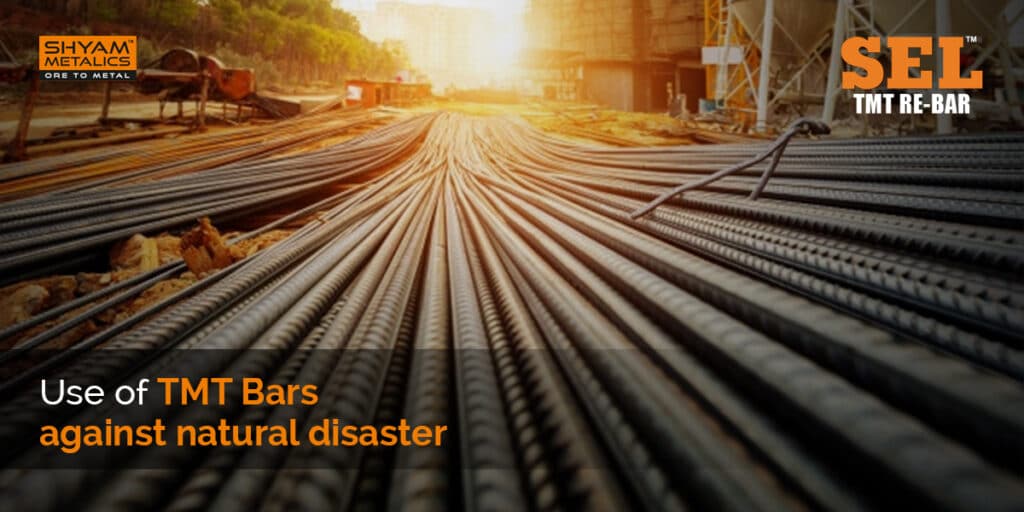 Use Of TMT Bars Against Natural Disaster
India's relation to natural disasters goes hand in hand with vulnerable calamities. Due to its geo-climatic conditions, India is responsible for the increasing frequency of natural disasters. Today India is witnessing urban constructions and skyscrapers with lucrative features like spectacular architects, multifaceted designs that are suitable to the user's regime and needs, at an incredible height. Being such vulnerable to natural calamities, these constructions does ring a bell in the mind of people. Well to answer that Shyam Metalics the best TMT bar company in India will show you how the muscles of TMT bars are able to provide such stability and strength to the urban constructions and skyscrapers to bear nature's brunt.  
Basic understanding of TMT bars
Thermo Mechanical Treatment bar is also known as TMT bar it is an essential steel bar that undergoes a thermochemical process to become high strength reinforcement bars. These are the measure used for providing TMT bars a strong outer layer that ensures durability accompanied by a soft inner core for greater ductile strength. These practices led by TMT bar manufacturers in India helps to make them resistant from corrosion with many other interesting properties. TMT bars are generally used for the construction of buildings or dams and help in protecting them from natural disasters. 
How do TMT bars help in protecting constructions against natural disasters? 
Earthquakes – Earthquakes fall under a prime natural disaster when it comes to India it causes severe damages and destruction to the properties and construction units. Therefore, constructions in the earthquakes prone areas are recommended to follow strength and ductility guidelines. TMT bar manufacturers in India develop steel bars possessing high ductile strength that could endure significant damage to the structures without failures. Hence reducing the earthquake effect and keeping the people safe inside. Shyam Metalics high ductile TMT steel bars are falling under the prime recommendation of structural engineers as they possess an enormous amount of strength and flexibility.

Related: How TMT Bars Protect Us From Deadly Earthquakes?
Floods – Floods are the major reason that causes corrosion to the constructions. If proper measures are not implemented flood could end up causing vital damage to the buildings, structures, and dams. Corrosion tends to reduce the longevity and structural integrity of steel bars. Hence the best TMT bar manufacturers in India adds a layer of protective paint or anti-corrosive material which helps TMT bars from rust. Shyam Metalics TMT bars offer high resistance to corrosion and decay that helps your constructions to survive extreme floods. 
Tornados – Heavy winds like tornadoes, hurricanes, or cyclones can cause an immense effect on the constructions and buildings. Generally, buildings are affected by strong winds like tornados and hurricanes when the material and technologies used are inappropriate. Shyam Metalics TMT bar provides superior grip over concrete and cement structures ensuring an unbreakable bond that would help a building to safeguard destructive wind.

Related: Guide To Choosing The Perfect TMT Grade For Your Construction
It doesn't matter whether you are building your home or supervising a fancy construction project worth a million, your optimum security should never be compromised or be at stake. To ensure that TMT bars are the best choice in today's world.
Shyam Metalics manufactures earthquake-resistant bars that are corrosion-free and possess a strong ductile strength. Invest for your safety to step ahead from natural disasters by creating solid construction with Shyam Metalics TMT bars. For more information visit us at https://www.shyammetalics.com/.
Recent Post
Featured Post