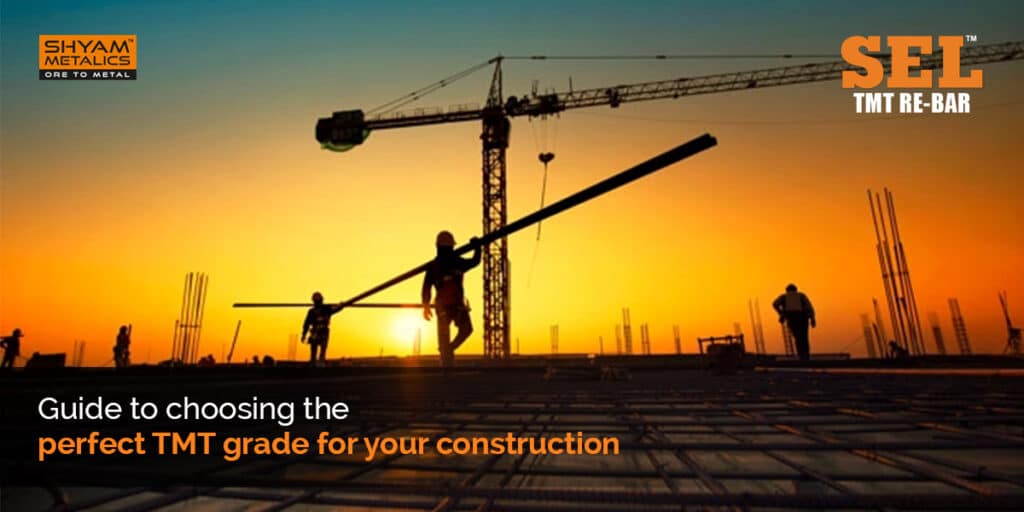 Guide To Choosing The Perfect TMT Grade For Your Construction
TMT bars are extensively used in a plethora of civil construction projects all over the world. TMT steel bars are a crucial part of any building as it preserves its integrity. They are manufactured using the quenching and self-tempering method that makes the TMT bars have high tensile strength, a highly ductile inner core and a high percentage of elongation.
TMT bars are highly preferred in those regions with regular or high seismic activity. The unique manufacturing process of TMT bars helps the steel bars to resist the shock waves produces by an earthquake and ensures that the building stands strong.
Apart from ensuring a high level of safety and security, the flexibility of TMT bars also allows more creative freedom to builders and architects in the design of the building.
Choosing The Perfect Grade
But apart from everything mentioned above, you need to choose the appropriate TMT bar grade for your construction. TMT bars are divided into various grades – Fe- 415, Fe- 500, Fe- 550, & Fe- 600.
The fact is that a good understanding of the various grades of TMT bars is crucial while sourcing the right TMT bars for your construction project. It will help you to ensure that a particular construction project has the right amount of strength and durability. Just to give you an example a Fe- 415 grade bar differs significantly from a Fe- 600-grade bar not only in terms of yield strength and composition but also in terms of utilization.
Related – Why TMT Bars Are Graded?
Listed below is the composition and uses of various grades of TMT Bars:
Fe- 415 – This grade is generally used in small-scale construction projects and can also be easily bent to complex shapes. It is perfect for the construction of residential homes and other small-scale structures. They can be used for projects in earthquake-prone regions.
Chemical Composition: (%)
Carbon – 0.30
Sulphur – 0.06
Phosphorous – 0.06
S+P – 0.110
Fe- 500–It is the most widely used TMT grade and it is generally regarded as the market standard across several construction projects. It can be used for the construction of residential, multi-storey, and commercial structures as well. It is ideal for construction in areas with high seismic activity and sudden loads.
Chemical Composition: (%)
Carbon – 0.30
Sulphur- 0.055
Phosphorous – 0.055
S+P – 0.105
Fe- 550 – This grade features high tensile strength that makes it useful for various large-scale projects. Its high load-bearing capacity makes it ideal for industrial and large-scale infrastructure projects.
Chemical Composition: (%)
Carbon – 0.30
Sulphur – 0.055
Phosphorous – 0.050
S+P – 0.100
Fe- 600 – It is the strongest TMT grade of all and it is generally used for heavy construction projects like bridges, towers, metro, and commercial and industrial structures.
Chemical Composition: (%)
Carbon – 0.30
Sulphur- 0.04
Phosphorous – 0.04
S+P – 0.075
Conclusion
The right grade TMT bars should be utilized as per the project specifications and quality standards. Using the right grade TMT bars in construction projects ensures the longevity of the structure. If you are looking for superior quality Fe- 415, Fe- 500, Fe- 550, and Fe- 600 grade TMT bars, then we at ShyamMetalics have got you covered.
Recent Post
Featured Post