Overview
Credentials
Specifications
Business Enquiry
Overview
TMT BARS ARE THE BACKBONE OF NEW CONSTRUCTIONS
TMT bars are the backbone of new constructions. With the help of new technologies, we offer your Thermo-Mechanically Treated bars that are tougher on the outside and soft on the inside. Construction of buildings, industrial sheds, transmission towers, dams, roads, and others require wire rods, structural products (Beams, Channels, Angles), and TMT bars. We provide our customers with the best quality TMT bars that are highly durable and malleable at the same time. With our range of offering in structural products, TMT bars, Pipes and Wire Rods across Odisha, West Bengal, Tripura, Jharkhand, Sikkim, Bihar, Manipur, Arunachal Pradesh, Assam, Uttar Pradesh, Uttarakhand, Meghalaya, Haryana, and Punjab, we are the best TMT brand for your construction works.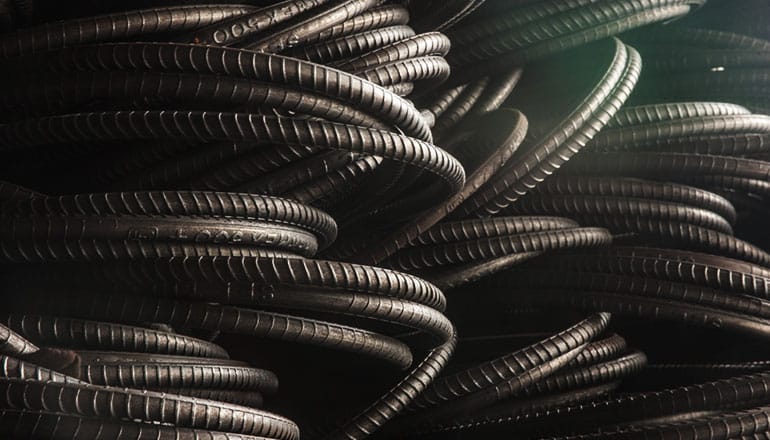 Features
Solid Grip on RCC
Rollers incorporated for the manufacture of SEL TMT Bars Re-rolling mill operations are produced and curated through automated CNC machines for Accurate & Perfect Ribs as well as Added Casting Grip when added with Reinforced Concrete Cements.
Resistance to Fire & Corrosion
With the combination of a proper quenching system and steel, SEL TMT Bars are immune to impacts from harsh external weathers and corrosion. Our TMT bars are also tested fire resistant upto the temperature range of 600°C to 650°C.
Resistant to Earthquake
With earthquakes being one of the prominent concerns, our TMT bars contain a fine combination of Manganese and Carbon which is set at 0.42% making the bars highly bendable and offer higher elongation to prevent your constructions from any threats from earthquakes.
Savings
With the application of Fe415 and Fe550D, we ensure that you save about 3 to 4% in your TMT Bar purchases. This also ensures savings in steel usage up to 17% making TMT Bars unifor and lower section weights to ensure sustainability.
The integration of quality control and manufacturing facility processes further ensure higher product quality for our products making us one of the best TMT bar manufacturing companies in east India.
Certificates
Specification
| | | | | | |
| --- | --- | --- | --- | --- | --- |
| Grade | %C, max | %S, max | %P, max | (%S + %P), max | %CE, max |
| Fe 415 | 0.3 | 0.06 | 0.06 | 0.11 | – |
| Fe 500 | 0.3 | 0.055 | 0.055 | 0.105 | – |
| Fe 500 D | 0.25 | 0.04 | 0.04 | 0.075 | 0.05 |
| Fe 500 S | 0.32 | 0.04 | 0.04 | 0.075 | 0.061 |
|  Fe 550 D | 0.25 | 0.04 | 0.04 | 0.075 | 0.061 |
| Fe 600 | 0.3 | 0.04 | 0.04 | 0.075 | – |
| Variation, Over Specified Limit, %, Max | 0.02 | 0.005 | 0.005 | 0.01 | – |