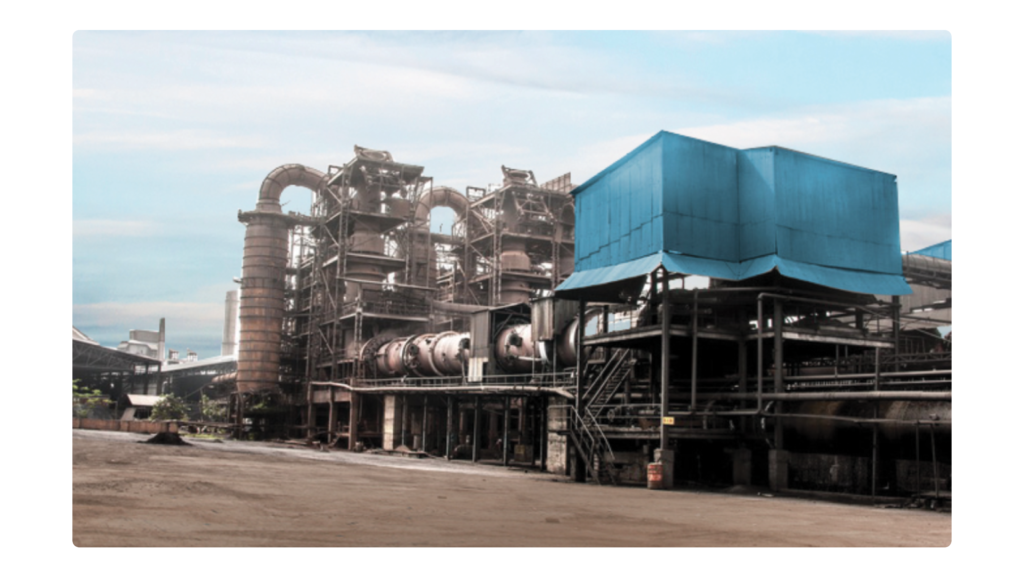 Mangalpur Plant
The Mangalpur manufacturing plant has one captive power plant of 15 MW, as of December 31, 2020, which utilises non-fossil fuel, pollution dust, char/ flu gases, waste heat and solid wastes (dolochar) from our sponge iron plants to generate electricity. Any shortfall in the electricity requirements of the manufacturing plant is met with power supply from India Power Corporation Limited and Damodar Valley Corporation. The manufacturing plant is in close proximity to NH 19. The nearest ports to the manufacturing plant are Kolkata and Haldia, both located in West Bengal.
---
Production Capacity: (Mangalpur Unit)
| | |
| --- | --- |
| Particulars | Existing Installed Capacities as of December 31, 2020* |
| Sponge Iron (1) | 60,000 TPA |
| Ferro alloy (2) | 37,920 TPA |
Note:
• The information relating to the existing installed capacity of our manufacturing plant as of December 31, 2020 and proposed capacity expansion of our manufacturing plant are based on various assumptions and estimates that have been taken into account for calculation of the installed capacity. These assumptions and estimates include the standard capacity calculation practice of the steel industry after examining the calculations and explanations provided by our Company and the capacities and other ancillary equipment installed at the manufacturing plant.
• The assumptions and estimates taken specifically into account include the following:
(1) sponge iron (direct reduced iron): capacity of each kiln in TPD X 330 days per year;
(2) billet: capacity of each furnace in TPH X (24 hours per day/ heat cycle) X 330 days per year; 1 heat cycle = 3 hours;
(3) ferro alloy products: furnace with 1 MVA capacity is equivalent to 1,555.56 TPA. The installed capacity of ferro alloy products may vary depending on the type of ferro alloy produced.
---
Production Management and Inventory Control
We plan our production and manage the inventory level of our finished products on a monthly basis based on projected sales volumes and make periodic adjustments to the production schedule and volumes based on actual orders received. We closely supervise our daily production and aim to maintain suitable inventory levels of raw materials and finished goods at each of our integrated manufacturing facility. We maintain different inventory levels for raw materials depending on lead time required to obtain additional supplies.
Internal Controls
We have put in place a system of internal controls to help ensure that all assets are safeguarded against loss from unauthorized use or disposition, and that transactions are authorized, recorded and reported correctly. In addition, the internal financial control and reporting process ensures robust financial monitoring and ensures compliance. We deploy standard policies and procedures, covering relevant business aspects, which are designed to facilitate effective oversight on business operations. Our internal control system is periodically reviewed by the management, and supplemented by an extensive program of internal and external audits. Financial and other records are reliable for preparing financial information, maintaining accountability of assets and providing reliable management information.
Occupational Health and Safety
Our activities are subject to the health and safety laws and regulations of India, which govern, among other things, the handling, storage and disposal of hazardous substances and wastes, and employee health and employee safety.
We continue to ensure compliance with applicable health and safety regulations and other requirements in our operations. We aim to conduct our operations free from accidents and occupational hazards. We have implemented various practices at our operational units to ensure the safety of our people, including contractors and temporary labourers. Further, we strive to provide a safe working ecosystem for our people and accordingly, aim to follow all statutory requirements.
We also have a safety, health and environment manual. Some of the salient features of this manual are as follows:
providing health and safety training across all levels of organisational hierarchy;
identifying and mitigating occupational health and hygienic hazards;
actively engaging with contractors, suppliers and business partners for safe performance on their part;
reporting and investigating all accidents to prevent recurrences; integration of health and safety aspects in all business decisions; and periodical health and safety audit.