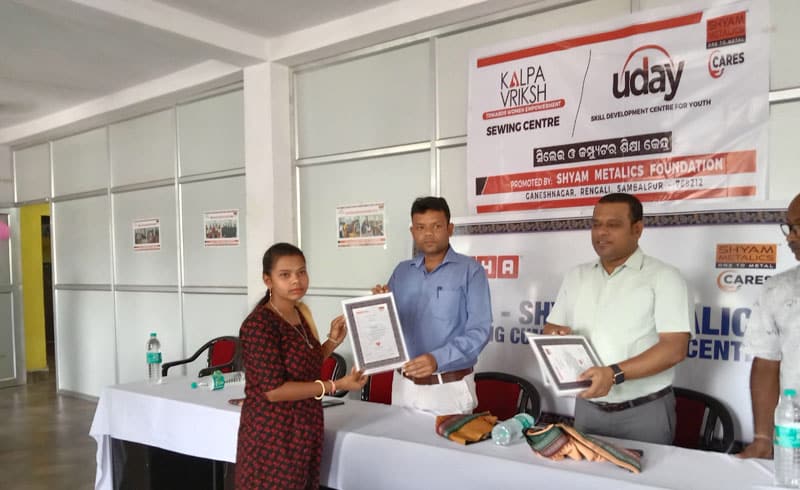 Skill development training by Shyam Metalics
Shyam Metalics has been committed to women's empowerment for years and has endorsed several training programmes for rural women. To further our mission of empowering rural women in Sambalpur, we have partnered with USHA International to provide sewing and tailoring training at our training-cum-production centre in the Rengali Block of Sambalpur district in Odisha.
An overview of the training program:
Shyam Metalics Foundation set up a 25-day comprehensive training camp in its training-cum-production centre for rural women residing in and around Rengali village – Sambalpur, Odisha. At the centre, fifteen trainees learned sewing skills, enhanced their knowledge and ultimately started producing marketable garments.
The block development officer of Rengali Block, Mr Shankar Prasad Sahu, visited the training camp and encouraged the trainees by interacting with them. He considered this training camp to be a great opportunity for many such women in the area to learn new skills and improve their lifestyles. The local sarpanch from Nishanbanga and Rengali also visited the centre and appreciated the work.
The outcome of the training program:
A batch of 15 trainees has received a Joint Certificate from Shyam Metalics Foundation and USHA International after the successful completion of their 25-day training course. The certificate enables the trained women to work independently and create an income source for themselves and their families. In addition, the master trainer will empower other women in the region by teaching them these skills to earn a decent livelihood.
In Conclusion:
Although our training program involved only 15 women, it'll further encourage many others to develop skills that will enable them to generate more income. Our director, Mr D.K. Tiwari, is keen to train more women from such local communities at our training centre and provide all the support under the company's CSR programme.
We hope this programme's efforts will have a positive impact not just on our local community, but also on other rural communities trying to empower women.