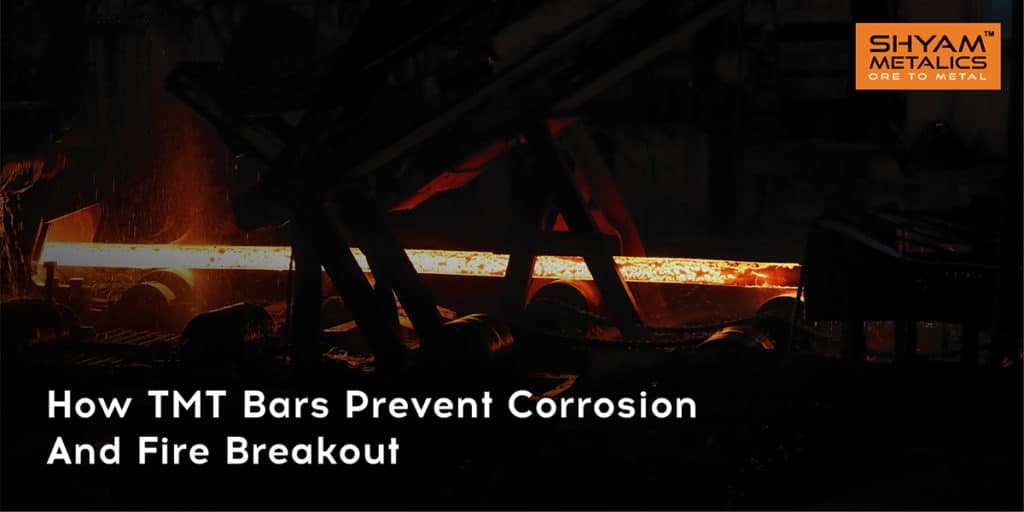 How TMT Bars Prevent Corrosion And Fire Breakout
Thermo-Mechanically Treated (TMT) bars are known for their superior strength and are one the most widely used materials for any construction project, be it buildings, flyovers or bridges. TMT bars have become absolutely pivotal for modern construction. TMT bars are manufactured using the latest technology of the modern times and have very easily replaced the other older types of rebars such as twisted rebars as TMT bars have shown better demand and quality in the last few years.
The best quality TMT bars protect the building structure from natural calamities such as earthquake but apart from that, there are other two special properties of the best TMT bars that are, fire resistance and corrosion resistance.
The corrosion of reinforcement bars is caused when these bars are exposed to humid weather conditions which leads to the release of chloride ions in the concrete. Due to corrosion of reinforcement bars, cracks occur on the concrete as it puts tremendous pressure on them. This is why it is always recommended to use those TMT bars which have chromium, copper and phosphorus layered on them as these moisture-resistant chemicals can help the TMT bars withstand corrosion.
Related Blog – Explore The Price Chart of West Bengal's TMT Bars
Coming to the next property which is fire-resistant, the best quality TMT bars from reputed TMT bar manufacturers in India can also resist extreme temperatures when exposed to fire at any time. The fire-resistant or thermal resistant property of TMT bars has become extremely popular in the construction industry. It is absolutely needless to mention that any residential house, the high rise can be exposed to fire at any time and it is also quite known that many buildings have collapsed due to fire hazards. As the best TMT bars feature high thermal stability, it makes these bars capable of withstanding high temperatures ranging from 400 to 600 degree Celsius.
If you are planning to purchase TMT bars, you must make sure that you are making the purchase from a premier TMT bar company as their TMT bars can ensure safety and stability to the concrete structure.
ShyamMetalics is one of the leading manufacturers of TMR bars in India. ShyamMetalics' TMT bars can resistance extreme level of temperature ranging from 600°C to 650°C and the combined chemistry of steel and advanced quenching process makes ShyamMetalics' 'SEL' TMT bars fire and corrosion-resistant. Craft the foundation of your future with ShyamMetalics.
Recent Post
Featured Post