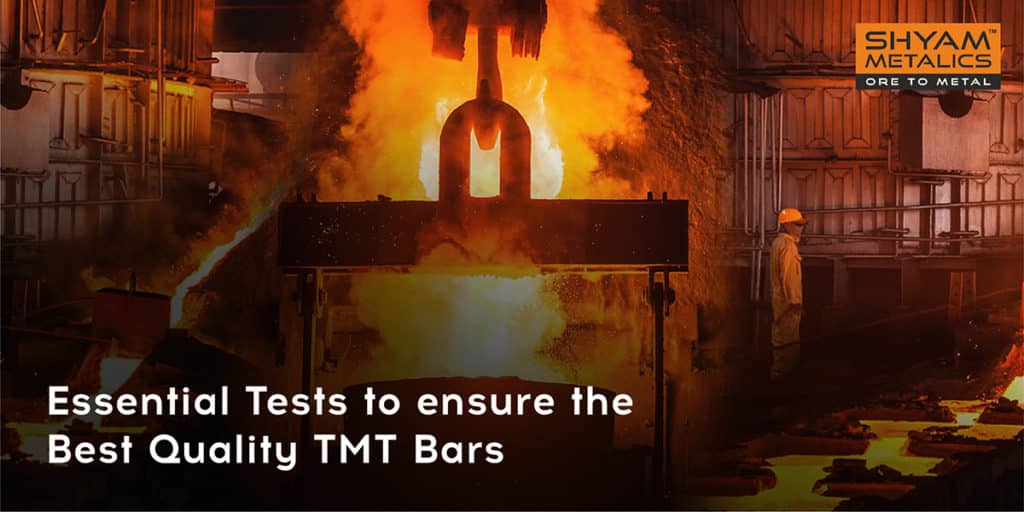 Essential Tests To Ensure The Best Quality TMT Bars
Best quality TMT bars in India requires both flexibility and strength. According to the IS Standards Fe 500d Grade steel reinforcement bars has both qualities. In all types of construction works this type of TMT Bars are highly recommended.
There are a few specific tests that determine the strength and elongation in order to make sure of the proper quality. The test is: –
Tensile test

Bend and Rebend test

Yield stress test

Chemical analysis test 
Tensile Test
Universal testing machine (UTM) is used to measure the strength of reinforcement bars. TMT Bars having capacity of 32mm can be tested and requires no machine as per IS 1786 and above 32mm it needs to be tested with it.
Bend & Rebend Test
There are various scenarios we can find that TMT Bars are getting bent. It mostly occurs due to the wrong materials. It is a must to check it while bending and re-bending the TMT at construction sites. This test ensures that bend radii are not created below the given minimum sizes according to relative standards. The performance of steel reinforcement can be badly affected due to incorrect bending.

Related Blog – Elaborating The Bar Bending Schedule Of TMT Bars

Things to be noted while bending best quality TMT Bars
The process of bending needs to be done slowly and gradually. During the performance, vibration is not needed.

For different bar sizes, minimum bend diameters are given.

It is strictly prohibited that no use of a hammer for bending the pipe.

Dirt and mud should not be on the surface of the best quality TMT Bars.
During quenching, better elongation and tensile strength come along with it.
Yield Stress Test
There are few questions like up to which level material can take the stress? When does it start to deform plastically? The answers to these types of questions can be solved during Yield stress test. The material will deform elastically until it reaches the yield point and goes back to its original form when stress is removed. The material's behaviour can be divided into two sections- ductile and brittle. Aluminum and steel often fail in the group of ductile materials. Whereas, cast iron and glass comes in the group of brittle materials. Both sections can be understood by comparing the stress-strain curve.
Chemical Test
In chemical analysis, chemical composition testing is done in a spectrometer. It takes around 10 to 15 seconds and then gives results in printed form of 26 elements in the TMT. It shows the result of percentages of Carbon, phosphorous and, Sulphur and is necessary according to BIS. Percentages of copper, manganese and chromium are also given by the spectrometer.
Best TMT Bars Company In India
Shyam Metalics.

TATA Tiscon Steel Bars

Vizag TMT Bars

SW Neosteel Pure TMT bar

Jindal Panther TMT bar

Kamdhenu Steel
Recent Post
Featured Post