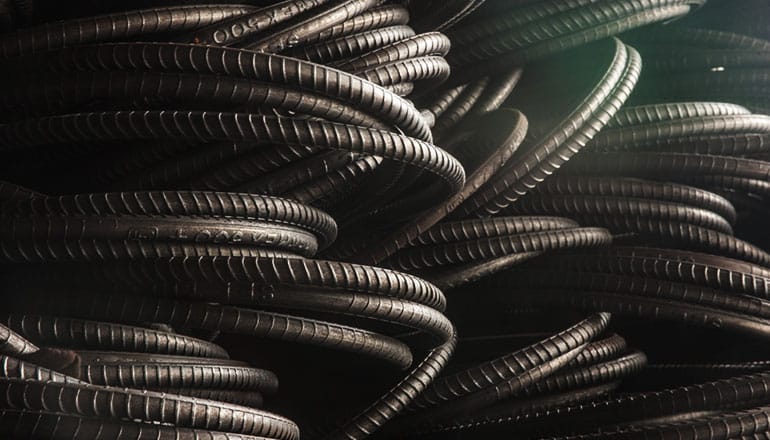 TMT
Shyam Metalics & Energy Ltd, is one of the largest industrial conglomerate in Eastern India. Steel, Power and Cement – are the core strength of the group. Our group's manufacturing units are spread across the states of West Bengal, Odisha and Meghalaya.
Diversified Products: Finished Steel (MS & CRS TMT Bar, Structural Steel, MS Round & Square Bars)    Pellets,    Sponge Iron,    Ferro Alloys,    MS & CRS Billet,   Special Steel,    Stainless Steel,    Pig Iron,    Cement,    Power, (Conventional & Non-Conventional) and Mining.
Primary Process of SEL Tiger Steel
SEL Tiger TMT Bar are manufactured employing German-based quenching system – THERMEX from 100% pure steel by primary steel making process i.e. from Iron Ore and Coal.
SEL Tiger Billets are confirmed to IS 2830: 2012 norms for CRS and MS Grades. SEL Tiger TMT Bar confirm to IS  IS1786:2008  for Fe 415, Fe500D and CRS Grade.
Quality Control System
For us Quality is not an act, it is a Habbit. We measure the quality of product through configured machinery and supervised by well qualified and experienced professionals. Stringent quality control measure are followed in all our integrated plants situated at Jamuria, near Durgapur in West Bengal, and Rengali near Sambalpur in Odisha.
Inspection, control and assurance are the three pillars of our quality control mechanism. Quality control process begins from the stage of procurement of raw materials and ends with finished product delivery.
Checking of Chemical components of Billet with Spectrometer
0.2% yield stress, UTS, percentage of elongation, Bend & Re-bend tests are done through Advance UTM
Chemical Composition Testing for TMT Bar in our in-house Laboratory
Etching test are done to ensure the use of proper thermal treatment
Assurance of Safety
Excellent Chemical Composition
The Billets which are used for making SEL Tiger TMT Bar must have the following Chemical Composition which we maintain
Note: For guaranteed weldability, the carbon equivalent (CE) shall not be more than 0.53 when Micro Alloys / Low Alloys are used. When Micro Alloys / Low Alloys are not used carbon equivalent (CE) shall not be more than 0.42 Percent.
Solid Grip on RCC
The Rollers used in Re-rolling mill for manufacturing SEL Tiger TMT Bar are designed by automated CNC machine gives Equal & Perfect Ribs & confirms Extra Casting Grip with Reinforced Concrete Cement.
Fire & Corrosion Resistant
SEL Tiger TMT Bars are fire resistant from 600°C to 650°C.
The combined chemistry of steel and proper quenching system enables SEL Tiger TMT Bar from Corrosion.
Earthquake Resistant
Fine proportion of Carbon and Manganese exhibit a good carbon equivalent (CE) that may not be greater than 0.42%, resulting in higher elongation and better bendability to resist earthquakes.
Savings
Use of Fe500D over Fe 415 ensures savings in usage of steel by up to 17%. SEL Tiger TMT Bar comes with lower and uniform sectional weight resulting in further saving of 3-4%.
SEL Tiger TMT Bar ensures highest quality through advanced integrated manufacturing facility and quality control process.