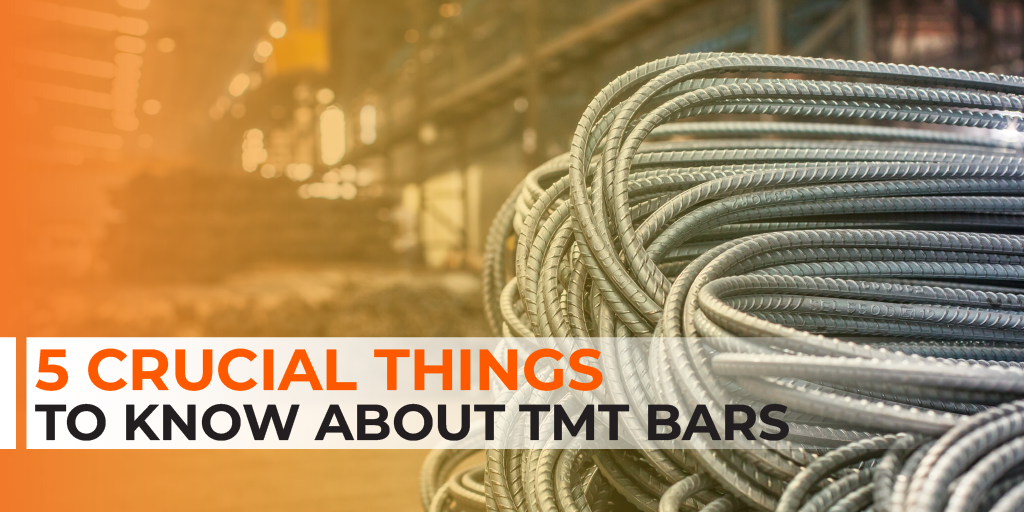 5 crucial things to know about TMT Bars before starting construction
When it comes to constructing a robust and long-lasting structure, the choice of building materials plays a pivotal role. TMT Bars, also known as Saria in some regions, have emerged as the preferred choice for construction projects across the globe.
These high-strength steel bars offer superior properties, enhancing the structural integrity and ensuring safety. If you're about to embark on a construction project and considering TMT Bars, here are five essential things you must know before making a decision.
Understanding TMT Bars
TMT Bars are an innovation in the construction industry, thanks to the Thermo-Mechanical Treatment process they undergo. These bars are made from low-carbon steel and undergo controlled heating and cooling, imparting unique properties such as high tensile strength, ductility, and weldability. TMT Bars are graded based on their yield strength, represented by grades like Fe415, Fe500, and Fe550, where the numbers denote the minimum yield strength in megapascals (MPa).
Selecting the Best TMT Saria for Construction
The success of your construction project hinges on choosing the right TMT Saria. Several factors contribute to the quality of TMT Steel Bars, including the manufacturing process and the raw materials used. Always opt for TMT Bars that adhere to national and international quality standards, such as IS 1786:2008, to ensure they meet the necessary requirements for strength and ductility. Moreover, choose a reputable TMT bar company in India with a proven track record of producing high-quality TMT Bars. Conduct thorough research and read reviews to make an informed decision.
Understanding TMT Steel Bar Rates
Before commencing construction, it is essential to understand the TMT steel bar rates to budget your project accurately. The cost of TMT Bars can vary depending on factors such as the grade of steel, the manufacturing process, and market demand. While it may be tempting to opt for the cheapest option, compromising on quality can lead to structural issues in the long run. It is crucial to strike a balance between cost and quality, ensuring that the TMT Bars offer the best value for your investment.
Corrosion Resistance and Durability
Corrosion is one of the primary concerns for construction materials, especially those exposed to moisture and harsh environmental conditions. However, TMT Bars excel in this aspect due to their exceptional corrosion resistance. The Thermo-Mechanical Treatment process forms a protective layer on the bars, preventing rust and enhancing their longevity even in adverse conditions. Choosing TMT Bars with excellent corrosion resistance will ensure that your construction remains strong and stable over the years.
Consultation with Experts
While extensive research is crucial, seeking advice from construction experts or structural engineers can provide invaluable insights. Their experience and expertise can guide you in selecting the most suitable TMT Bars for your specific project requirements. Experts can help you determine the quantity of TMT Bars needed, their placement, and other critical aspects to ensure the structural integrity and safety of the building. Collaborating with professionals will give you peace of mind throughout the construction process.
Before embarking on a construction project, understanding the essential aspects of TMT Bars is of utmost importance. Thermo-Mechanically Treated (TMT) Bars are an excellent choice due to their high tensile strength, ductility, weldability, and corrosion resistance. To ensure you use the best TMT Saria, focus on choosing a reputable TMT bar company in India that adheres to quality standards.
Shyam Metallics' dedication to delivering high-quality TMT Bars has garnered recognition and accolades from the industry. The company holds certifications from reputable organizations, affirming its commitment to adhering to national and international quality standards. These certifications add to the credibility and trustworthiness of being the best TMT Bars company in India.
With its unwavering commitment to quality, innovative technology, and customer satisfaction, Shyam Metallics continues to be a preferred choice for builders, engineers, and construction professionals in India and beyond. For any construction project, feel free to inquire to get the best customized TMT steel bar rates in India.
Recent Post
Featured Post