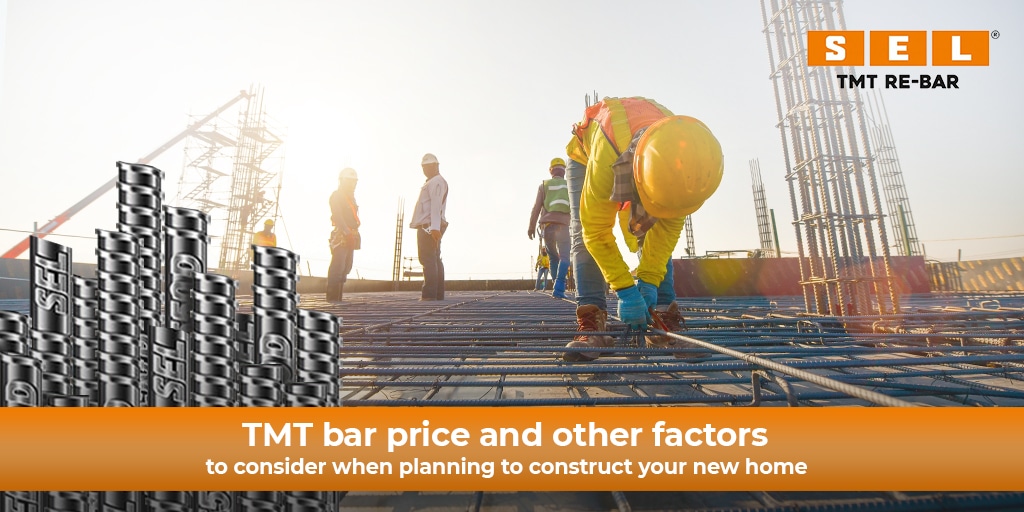 TMT bar price and other factors to consider when planning to construct your new home
For many, it's a once-in-a-lifetime opportunity to turn their dream home into a reality. If you are planning to build a new home, here we have compiled important factors you must consider when building a new home:
Required government approvals: Getting the requisite approvals from the government and other local authorities is an important part of the house construction. Before building a new home, you need to file several applications to ensure that you follow all the building rules and regulations of the local area where you wish to build your house. Not seeking proper approval can delay the project and lead to additional expenses. Here are some approvals that you need before starting the construction:

Land title
Land clearance
Zonal clearance
Building plan approval
Layout approval
Completion certificate (if the building has to be sold)
Approval from utility providers of electricity, gas and water

Unique needs: Before you start discussing house plans with an architect, make a list of important must-haves for you and your family. For some families, a guest room is important while some may prefer a walk-in closet or a dedicated laundry space. Also, take into account the number of people who will be living there and their needs.
House plans: Hire a professional who can address specific requirements in terms of space, planning and the appearance of your house. Some plots of land with an unusual shape or size may need extra attention.
Budget: You may want to think that sky's the limit when it comes to building your new home but as a matter of fact money is a finite resource. Make a checklist and research the cost of each item. In addition to the cost of construction and labour, consider the property taxes and inspection fees. Account for delays and other unexpected expenses.
Contractors and other professionals: To ensure that your dream house is successfully built, you need good contractors, architects and interior designers. Ask family and friends for some references. Do due diligence before you hire the professionals. Make sure that they are experienced and have done the scale of work that matches your requirements.
TMT bar price and quality: One thing that you shouldn't be compromising on when building a home is construction material. The materials you choose determine the longevity and durability of your house. TMT bar, cement, sand and bricks are some of the important materials. TMT Bars are among the most important construction materials as they withstand the whole load of the building and play an important role in protecting the house during earthquakes. Besides TMT bar price, you should also consider the grade and quality of TMT bar. Fe 550D is the best grade of TMT Bar to choose for all types of construction.
Check SEL TMT Bars when building your new home
SEL TMT Rebar 550D is manufactured using advanced Thermex technology from Germany. Our TMT bars are:
Fire and corrosion resistant
Earthquake resistant
Cost effective
Quality bonding with RCC
Certified — Thermex QST licence and BSCIC certificate
Recent Post
Featured Post