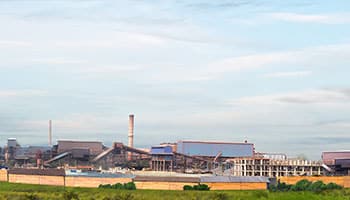 Sambalpur Plant
Group's flagship company, Shyam Metalics & Energy Ltd (SMEL), rated "AA-" (stable) for Long Term facilities and "A1+" for short term facilities by CRISIL dated 11.08.2020 is operating a 1.7 Million MTPA integrated steel manufacturing complex along with power plant and private railway siding at Sambalpur District, Odisha.
Shyam Metalics & Energy Limited (SMEL) is a well-established public limited company (closely held) under Shyam Group. The manufacturing unit of SMEL is located at Village-Pandoli, Tahasil-Rangali, District-Sambalpur in Odisha. SMEL has also installed wind power plant of capacity 5.1 MW at Maharashtra.
| | |
| --- | --- |
| Products | Existing Capacity |
| Pellet Plant (MTPA) | 12,00,000 |
| Sponge Iron(MTPA) | 7,92,000 |
| SMS (MTPA) | 4,01,280 |
| Rolling Mill(MTPA) | 3,56,000 |
| Captive Power(MW) | 85 |
| Pipe Mill (MTPA) | 36,000 |
| Ferro Alloys (MTPA) | 98,000 |
| Captive Power Plant (MW) | 118 |
| Private Railway Siding(KM) | 8 |
| Wind Power Plant (MW) | 5.1 |
QUALITY POLICY
To serve our customers with premium quality steel Billets, TMT Re-bars and other structural tested through an exhaustive process of quality assurance.
To ensure a perpetual quality maintenance and excellence in product quality, we engage and strive towards continuous improvement and up-gradation in the manufacturing and quality control techniques.
At Shyam Metalics, quality is the measure of excellence. Starting from procurement of raw material to final packaging, all operations are filtered through multiple layers of quality control and checking procedures. Due to availability of high grade iron ore and coal in the vicinity of the plants, our choice of additives has been easier and superior. Our Quality Control Laboratories are equipped with the state-of-the-art and highly configured machinery supervised by the team of qualified and experienced professionals in the industry.
Our quality management includes three stages of Inspection, Control and Assurance. First we inspect for detection of errors. Then we investigate for the reasons behind the errors and take action to close all loopholes. Then we make all necessary corrections. On the next level we check the products against specified standards and make detail documentation of its quality checking procedures thus producing best quality billets, TMT Re-bars and structural in the market.