Pure Drinking Water- The First & Foremost Medicine | Shyam Metalics Water Cooler Inaugurations
Shyam Metalics, a name synonymous with excellence and corporate responsibility, continues to illuminate its commitment to societal welfare through meaningful CSR initiatives.
A recent example of this commitment is the inauguration of water coolers with purifiers at two educational institutions – Runai Primary School in Mangalpur and Uma Rani Gorai Mahila Primary School in Asansol.
The inaugurations were graced by distinguished individuals who understand the significance of such initiatives in shaping the lives of young minds. Sri. Sumit Chakraborty, Director of SSPL, Akhtari Khatoon, Counsellor of AMC, and Mojammil Husain, Chairman of the Borough-AMC, came together to inaugurate the water coolers. Their presence underlined the collective commitment towards the well-being of the community.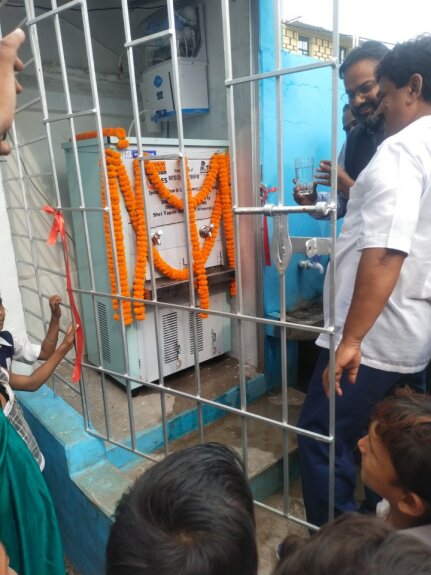 Also present at the inaugurations were Sri. Ujjal Chatterjee, Factory Manager of Mangalpur, alongside the dedicated school teachers and enthusiastic students from both institutions.
The objectives of these initiatives were multifaceted:
Access to Clean Water: The installation of water coolers with purifiers signifies Shyam Metalics' dedication to providing access to safe and clean drinking water for students. This not only addresses a basic necessity but also contributes to the overall health and well-being of the students.
Health and Hygiene: The availability of purified water encourages students to maintain good hygiene practices, such as regular handwashing, which is crucial for preventing the spread of illnesses. This, in turn, creates a healthier school environment.
Community Engagement: By involving various stakeholders, including company representatives, local government officials, teachers, and students, these inaugurations foster a sense of community engagement and responsibility. Such initiatives showcase how collaboration can bring about positive change.
Empowering Education: A conducive learning environment is vital for the holistic development of students. Access to clean water contributes to the overall well-being of students, allowing them to focus on their studies and educational pursuits.
The inauguration of water coolers with purifiers in these schools exemplifies Shyam Metalics' commitment to impacting lives beyond its core business operations. By addressing fundamental needs and contributing to the betterment of educational institutions, the company sets an inspiring example of how CSR can be a catalyst for positive change in local communities.
Recent Post
Featured Post