Difference between Fe 500 and Fe 550D TMT Bars in Construction
In the realm of construction, choosing the right materials is paramount to ensuring the longevity, stability, and safety of structures. Among the key components, TMT bars play a vital role in reinforcing concrete structures, making them a critical consideration for architects, engineers, and builders. Two commonly used grades of TMT bars are Fe 500 and Fe 550D.
UNDERSTANDING THE BASICS: FE 500 AND FE 550D
Fe 500:
Fe 500, where "Fe" stands for Iron and "500" signifies the minimum yield strength in megapascals (MPa), is a well-established and widely used grade of TMT steel. These bars strike a balance between strength and flexibility, rendering them suitable for a range of construction applications. Fe 500 TMT bars are readily available in the market and have become a popular choice for various building projects.
Fe 550D:
On the other hand, Fe 550D takes the construction game a notch higher. Similar to Fe 500, "Fe" denotes Iron, but "550D" indicates a minimum yield strength of 550 MPa. The inclusion of "D" emphasizes ductility – the ability to deform without breaking. Fe 550D TMT bars boast increased ductility, making them capable of withstanding higher levels of deformation without compromising their inherent strength. These bars are tailored for applications demanding superior strength and flexibility.
In more detail:
Fe:
This stands for iron, which is the primary element in steel production. Iron is alloyed with other elements to create steel with desired properties.
550:
This refers to the minimum yield strength of the TMT bars, which is 550 MPa (megapascals). Yield strength is the amount of stress a material can withstand without undergoing permanent deformation. Higher yield strength indicates greater structural strength.
D:
The "D" in Fe 550D signifies enhanced ductility. Ductility is the property that allows a material to deform under tensile stress before fracturing.
Different Grades of Steel: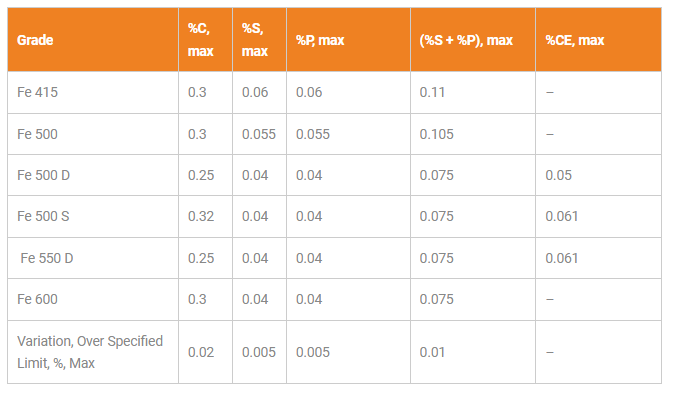 CHEMICAL COMPOSITION AND MECHANICAL PROPERTIES:
Both Fe 500 and Fe 550D TMT bars adhere to stringent standards in terms of their chemical composition and mechanical properties. While there might be slight variations among different manufacturers, the core elements – carbon, sulfur, phosphorus – are carefully controlled to achieve desired attributes.
In terms of mechanical properties, Fe 500 TMT bars typically offer a yield strength of around 500 MPa, making them suitable for conventional construction needs like residential buildings and low-rise structures. Conversely, Fe 550D's higher yield strength of 550 MPa, combined with enhanced ductility, makes them well-suited for projects demanding exceptional structural integrity, such as high-rise buildings, bridges, and industrial complexes.
STRENGTH AND FLEXIBILITY IN HARMONY:
Fe 500D steel finds its strength in its ability to harmonize two seemingly opposing traits: strength and flexibility. This unique blend of attributes is what makes Fe 500D steel a preferred choice in various construction applications. With a yield strength of approximately 500 MPa, this steel offers ample strength to endure the weight and forces exerted on structures without succumbing to deformation.
SUITABILITY FOR CONSTRUCTION:
Fe 500D steel's versatility is its hallmark. It's suitable for a wide spectrum of construction projects, ranging from residential buildings to commercial complexes. Its moderate yield strength allows it to provide the necessary support while allowing architects and engineers the flexibility to design intricate structures without encountering excessive rigidity.
This balance strikes a chord between durability and design freedom, making Fe 500D steel a go-to choice for many construction endeavors.
KEY FEATURES OF FE 550D TMT BARS:
Higher Strength: Fe 550D TMT bars possess a higher yield strength compared to standard TMT bars, which allows them to withstand greater loads and forces.
Enhanced Ductility: The "D" in Fe 550D indicates increased ductility, enabling the bars to absorb more energy before breaking. This property is beneficial in earthquake-prone areas.
Seismic Resistance: Fe 550D TMT bars are particularly suitable for structures located in earthquake-prone regions, as their enhanced ductility helps buildings endure seismic vibrations.
Critical Structural Applications: Fe 550D TMT bars are commonly used in critical structural elements such as high-rise buildings, bridges, industrial complexes, and other projects where safety and stability are paramount.
High Fatigue Resistance: The combination of high strength and ductility also provides these bars with excellent fatigue resistance, making them suitable for structures subjected to cyclic loading.
FE 550D AND FE500 Bend & Re-Bend Test: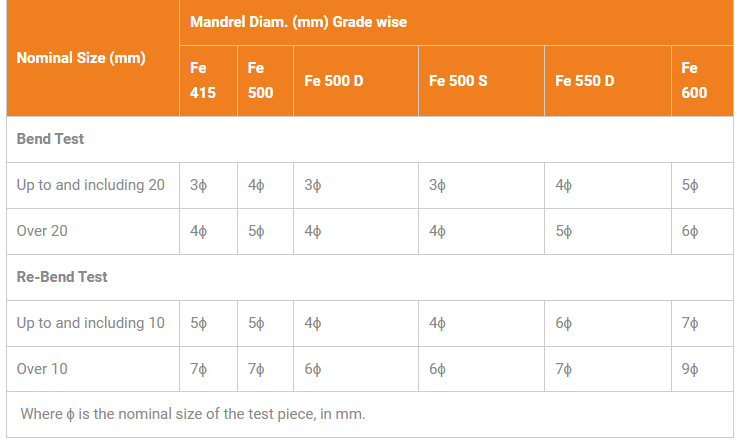 DECODING THE PREFERENCE FOR FE 550D:
why would one opt for Fe 550D when Fe 500 seems to cover the basics? The answer lies in the specific requirements of the project. Fe 550D TMT bars are the preferred choice for critical structures. With their remarkable combination of strength and ductility, they offer a level of seismic resistance that is especially vital in earthquake-prone regions.
Their capacity to endure significant deformations ensures the safety and stability of structures during adverse conditions, contributing to the longevity of the construction.
CHOOSING THE RIGHT TMT BARS FOR HOUSE CONSTRUCTION:
When it comes to house construction, both Fe 500 and Fe 550D TMT bars have their merits. Fe 500 is commonly used for standard residential buildings, while Fe 550D becomes a compelling choice for projects that demand added strength and structural robustness, ensuring the building's ability to withstand unforeseen challenges over time.
ABOUT SHYAM METALICS
Shyam Metalics and Energy Ltd. is one of the best TMT brands among the other 7 steel companies listed in India. It also manufactures Ferro alloys and holds a leading position among the other brands which makes the company to hold a good position in TMT bar manufacturing company in east India.
Shyam Metalics offers the BEST RATES along with the exceptional quality of the product. Their in-depth knowledge of the steel industry, hard work and vision has kept the company growing from strength to strength.
Recent Post
Featured Post